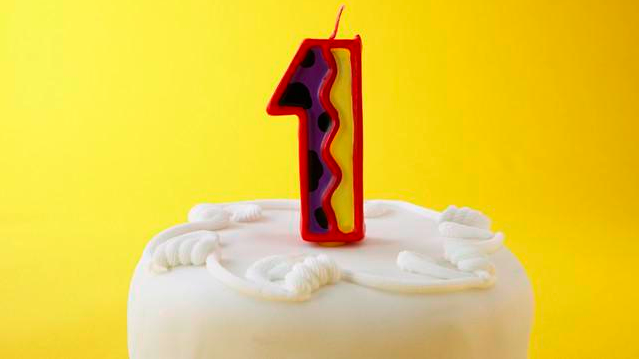 Almost one year ago, on Friday, October 25, 2013, I tweeted this:
Today's the day! Launching my new blog in a few hours!! #bloglaunch #dayone
I remember sitting in Starbucks feeling anxious, excited, and sick all at the same time.  It was a way of putting myself out there unlike anything I had ever done.  Sure, I had the support of my wife and a few close friends, but I was fearful that it would fail…that I would fail.
But, here I am one year later and I'm proud to say that I'm still at it.  There have been some ups and downs, but it has been a year that I wouldn't do any differently.  I'm glad that I put myself out there and I am thankful that things have gone as well as they have.
In this last year, my blog has seen over 7,200 unique visitors, over 31,000 page views, and close to 100 subscribers!  I am more than pleased with these results!  But, I have to say that there have been several things that have surprised me in this last year.  Here are six of them:
Writing is a job.  In order to do it well, writing takes time.  Being a full time pastor and the dad of 3 children, finding time to write has proven difficult.  I have now settled into a routine where I write mostly on Fridays, but that hasn't always been the case.  There have been many weeks that have passed where I didn't write a single post.  The key to growing a blog is writing consistently and I failed at this much more than I succeeded.  But, I have now realized that it takes work to become successful at anything and writing is no different.  I must approach it not as a hobby, but as a job…one that I love!
Writing for other sites is easier than you think.  Many of the big time bloggers give the advice that growing a blog must include guest posts.  I haven't seen a ton of traffic from this yet, but I have experienced success in writing for other sites.  It started with the Catalyst blog and most recently includes the Good Men Project and The Huffington Post in Germany.  Most of the articles I've been able to write for other sites has come because I reached out to them and simply asked.  That's it.  I asked.  Although there have been some that have responded with "no", most have said "yes."  And, now, I have people reaching out to me asking me to write something for their site (this has happened 3 times in the last 3 weeks!).
Other writers care about your success.  I have to say that I have formed some great relationships with other writers.  I live in Indiana and I have some big supporters – one lives in Atlanta, one in Oregon, and one in California.  Only one of those have I ever talked to face to face (and that was only one time!).  But, these guys support me regularly and cheer me on.  I can honestly say that, without them, I would have given up on this dream months ago.  And, there are others that have cheered me on – I remember when Lysa TerKeurst once tweeted to me that the article I wrote on the Catalyst blog was a good article and when Money Saving Mom (Crystal Paine) encouraged me specifically that I could one day have a following as large as hers.
Everyone doesn't love you or your content.  This was a tough one for me.  Regularly, people will unsubscribe from my blog, unfollow me on Twitter, and un-fan my page on Facebook.  Also, now that I'm "out there" a little more on sites like the Good Men Project, there are some comments on my posts that are less than friendly.  As I've said before, haters are gonna hate…  but it still stings each time someone doesn't love me or my content.  I hear that as my platform continues to grow, it will only get worse…  So, I'm trying to prepare my self-esteem for this reality.
There really are no overnight successes.  I really thought I was different. I thought that what I had to say was SO GOOD that every post would go viral and I would blow up in a matter of a few days/weeks/months.  But, it hasn't happened.  The post that's had the most views is one that got 3,000 views.  My post over at the Good Men Project has about 20,000 views.  Both are decent stats, but are far from the norm.  So, I'm putting my head down and continuing to plow forward…thinking that year 2 will be the year of my "overnight success."  🙂
Writing is amazing!  I grossly underestimated the impact that writing would have on my life and how it would give me a platform for ministry.  I have been able to write about the loss of my grandfather as well as my issues with getting older.  It has been therapeutic.  I've heard comments from people that my posts have inspired them and challenged them and educated them.  My post for the Huffington Post in Germany has opened a door to a European culture that is largely closed to the idea of God and Christianity.  These are things that I never even thought about as a possibility when I first launched one year ago.
Any time you do anything new, there are going to be surprises…both good and bad.  There will be things that go better than you expected and things that don't go according to plan.  How we choose to react to these things is the key.  I have read that most bloggers/writers give up after a few months of giving it a try.  I'm so glad that I've stuck to it and given it a fair chance – but the key is to handle the hiccups and setbacks in a health way.
What surprises have you experienced as you've tried something new?  Comment below and let me know…
Like this post?  Want to join my mailing list so you don't miss future posts?  Click here to sign up and you'll receive my FREE ebook called "Leadership For The Rest Of Us".