Each year I attend The Global Leadership Summit from the satellite location at my home church in Lafayette, IN.  This year, I've been invited to be a part of the social media/live-blogging team to share my notes from this year's Summit.  So, tune in for the next 2 days and catch the notes from each of the speakers.
It's my hope that these notes will not only add value to you as a leader, but also give you some practical ideas to share the notes with your team.  Also, I'll have some extras for you, so you'll want to check back often and see what's happening!  Lastly, head over to my Facebook page to join in on the conversation and let's share our favorite quotes and take-aways there!
The Global Leadership Summit is a two-day event telecast LIVE in HD from Willow's campus near Chicago every August to hundreds of locations in North America. You are invited to join an expected 305,000 people committed to getting better as leaders in 2016. Throughout the fall, Summit events take place at an additional 675+ sites in 125 countries and 59 languages.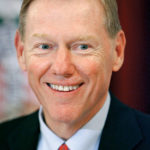 Alan Mulally
President and Chief Executive Officer, The Ford Motor Company (2006-2014)
Alan Mulally led Ford's transformation into one of the world's leading automobile companies and the #1 automobile brand in the United States—returning it to profitability and changing the way the organization works. Prior to joining Ford, he served as executive vice president of The Boeing Company. Mulally has been named No. 3 on Fortune's "World's Greatest Leaders" list and one of "The World's Most Influential People" by TIME magazine.
People first – it starts with loving them
Everyone has to be included
Come around a compelling vision, comprehensive strategy, and a relentless implementation.
Clear performance goals are important.
One plan is important and everyone has to know the plan.
We're interested in everyone's opinions, but we want to know the facts and data behind those opinions.
Everyone needs to know the plan, the status, and areas that need special attention.
Emotional resilience is important as a leader – if you look sick, everyone will be sick.
Have fun – enjoy the journey and each other.
Humor can never be at anyone else's expense.
The first forecast I saw when I arrived at Ford was for a $16 billion loss – and we achieved it.
When I left Boeing for Ford, even though Ford was failing, I really felt called to do it.
None of the executives at Ford when I arrived drove Ford vehicles.
The automobile industry is 15%-20% of GDP.
Because it's all about people, one of the first things I did was to gather key leaders from around the world within Ford.
We focused on strategy in the beginning.
If you never bring a problem to your boss unless you have the solution, you're just managing a secret.
I knew we were going to be ok when we started dealing with reality and began helping each other through our crises.
We started from the customer point of view.
We're the #1 brand in the United States.
Only 42% of employees worldwide have a positive impression of the company they work for.
At Ford, 89% of the employees have a positive impression of the company.
Those are notes from Alan Mulally's talk.  What did you hear?  Be sure to comment over on the Facebook page!