Each year I attend The Global Leadership Summit from the satellite location at my home church in Lafayette, IN.  This year, I've been invited to be a part of the social media/live-blogging team to share my notes from this year's Summit.  So, tune in for the next 2 days and catch the notes from each of the speakers.
It's my hope that these notes will not only add value to you as a leader, but also give you some practical ideas to share the notes with your team.  Also, I'll have some extras for you, so you'll want to check back often and see what's happening!  Lastly, head over to my Facebook page to join in on the conversation and let's share our favorite quotes and take-aways there!
The Global Leadership Summit is a two-day event telecast LIVE in HD from Willow's campus near Chicago every August to hundreds of locations in North America. You are invited to join an expected 305,000 people committed to getting better as leaders in 2016. Throughout the fall, Summit events take place at an additional 675+ sites in 125 countries and 59 languages.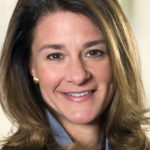 Melinda Gates
Co-Chair, Bill & Melinda Gates Foundation
As co-chair of the foundation, Melinda Gates shapes and approves strategies, reviews results and sets the overall direction of the organization. Her work has led her to focus on empowering women and girls to bring transformational improvements in the health and prosperity of families, communities and societies. After joining Microsoft Corp. in 1987, she helped develop many of the company's multimedia products. In 1996, Melinda left Microsoft to focus on her philanthropic work and family.
I've learned that the world is getting better – despite the headlines.
Poverty has been cut in half…maternal deaths have been cut in half.
The things that we're developing here in this country should be shared with other countries who are developing.
I studied computer science at Duke University.
Women in computer science have declined from 38% to 17%.
I worked at Microsoft for 9 years and I loved it because we were changing the world.
I discovered that I really loved managing teams – when you get the best out of people and the team, you get the best result.
You can't have a hard charging career and live out our values of family.
One of the reasons I left Microsoft was because I wanted to have a normal family life.
When I enrolled the kids at school, I used my maiden name so others wouldn't know they were Bill Gates' kids.
One of the important things that I learned was that one individual can change the world and make a difference in someone else's life.
I try to take time in silence every day…usually in the morning.
I don't go to my phone first thing in the morning.
When we go out on a date night, we first talk about kids and then we talk about the foundation.
The foundation is the embodiment of the values that we live out.
Our value is that all lives have equal value.
You have to listen.
We need to live out our values in the world.
If you're going to go out and listen to the people in the developing world, you have to let your heart break and think about what you can do to help.
I needed courage to face the calling that God placed on my life.
You have anything close to a billion dollars, it's not going to hurt you to give half of it away.
We have 155 billionaires signed up to help from around the world.
When we got into the nonprofit, we realized how hard it was going to be.
We were surprised at how nonprofits were making decisions with very little or no data.
We were able to bring data to this sector to help us make better decisions.
Those are my notes for the session with Melinda Gates.  What did you write down in your notes?  Comment over on the Facebook page!  I'll meet you there!